The iLuvBBall Unsigned Senior Showcase – March 25,2017
In 1926 Langston Hughes wondered :
"What happens to a Dream deferred ? Does it dry up like a raisin in the sun ? Or fester like a sore – and then run ?"
Almost 100 former local high school basketball players appeared in Westbury yesterday, poised and prepared, to show their very best to 50 college coaches.
The question on all of their minds was: " What if …?"
" What if I remain unsigned ?"
" What if I had worked harder ?"
" What if my dream of playing college basketball is over ?"
The collegiate basketball experience is oftentimes dramatically different than the high school experience. But, who knows that ? Who talks about that ?
Young players see the Lonzo Ball story on ESPN. From high school star to college star the following year. It looks easy. and, it seems to make sense.
In 2017, there were an estimated 200,000 boys playing on high school basketball teams in the United States. There are approximately 3,200 spots available on D1 basketball teams. While the participation and affiliation of Division 2 and 3 teams are less consistent, it is fair to estimate only 6,000 players at the college level … and, certainly, players who were stars in high school may be role players at their university.
So you didn't get that D1, D2, D3, or JUCO offer you expected to have had by now. NOW WHAT?!?!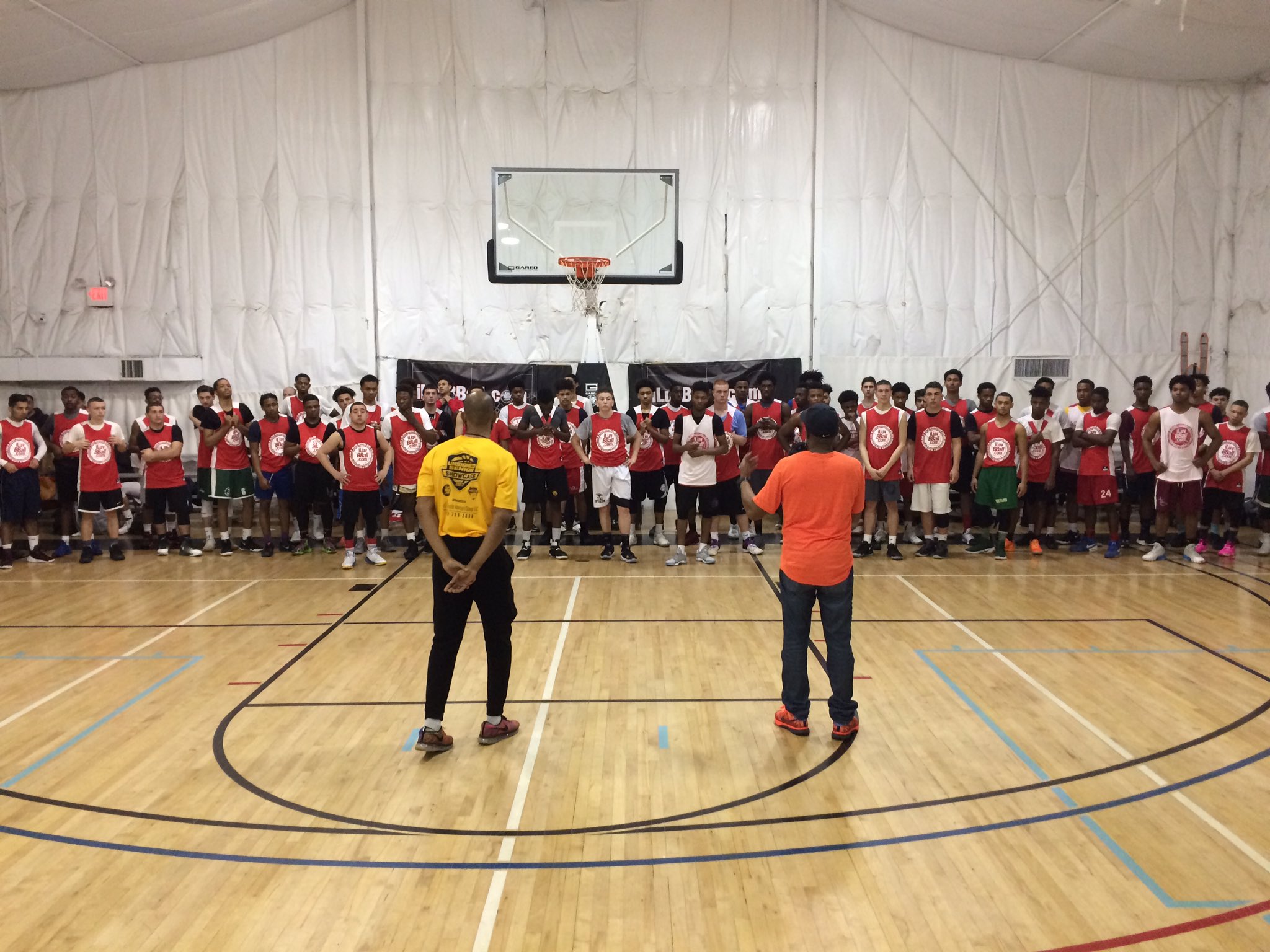 The Unsigned Senior Showcase hosted by iLuvBBall.com & Team Underrated. The almost 100 young men that showed up, check-in, warmed up, then got right into some high intensity drills, led by Brian Kuar of Habits Basketball … all in a gym where a ton of coaches had a front row seat to see the kids' hustle, determination, and how serious they take even the mundane aspects of being an athlete.
After the work out, the young men were split up into their assigned teams, with the opportunity to participate in 3 games throughout the day on two courts … and boy a lot of those games were competitive. These were no soft "All-Star-type" games! These boys were going at it, trying their best to showcase in front of the college coaches in attendance why they could be an asset to their school and their basketball programs! Players were diving for loosed balls; locking up on defense; no free layups, so plenty of blocked shots; step-backs; crossovers; and of course some thunderous dunks!
After our close-out, there was a "Meet and Greet" session between the players and their parents to find a match. What happens next?! We hope some perfect connections.
So, if the dream seems to be drying up, what is the answer for the young man who is still passionate about basketball?
If he is of fine academic achievement and personal discipline, including punctuality , fine character, and team loyalty ….. we suggest pursuing his dream of being a part of it all. If still unsigned, a player should choose a college that suits his long term career goals. He should avail himself to the coaching staff. With fine references and his own appearance, an invitation to "walk on" is possible.
What many new collegians don't realize is that some universities actually have "JV" teams as well. Remember, there are 194,000 former high school players out there ….. many are walking around on college campuses. The larger conference schools, like those in the ACC and Big Ten have notable intramural leagues that actually fly their champions to Intramural Final Fours!
Of course, each Unsigned Senior has his own special story. There are some "late bloomers" who may benefit from a year in prep school before being considered a college level player.
Basketball is a lifetime sport. The ball stops bouncing competitively one day for everyone, even Michael Jordan. With that in mind, part of the clinic series we had available for the parents that stayed and attended the Unsigned Senior Showcase, we had Cosmo Laurino,RICP®, from the Wealth Advisory Group, speak to the parents on just that – planning for these young men for when the ball stops bouncing. We also thank Cosmo and the Wealth Advisory Group for being a sponsor for the Unsigned Senior Showcase.
And yet, many players live to play ….. and find themselves in " Over 30″ leagues, 3 on 3 tournaments, and in pickup games in parks and street scenes across America.
Some crazy former players even decide to coach basketball ?
If you are still hanging on , and " what's next " is your lingering question ……
iLuvbball.com is your resource!
Contact us today at info@iluvbball.com and stay up-to-date on all things basketball by following us at @realiluvbball on all your favorite social media sites/apps.
---
Fresh off the heels of the Unsigned Senior Showcase, with Team Underrated, we're ready to jump right into the hottest Tournament of the Summer, the 3rd Annual #iDtop4 Super Basketball Showcase Tournament! This tournament is the only one of its kind in the Tri-State area! … and guess what?! All the college coaches that attended the Unsigned Senior Showcase have been invited back, and some have already confirmed to come for the #iDtop4!!!! Register Now and hold your spot for 3 days of some hot competitive basketball and a great experience. For more information email info@iluvbball.com or call Rodini at 631-671-4285 or Mike at 917-776-5776.