As the midnight hour ticked closer and closer, the Big Blue Nation sat on the edge of its collective seat asking one question: Was Hamidou Diallo going to leave for the NBA Draft or return to Kentucky?
Just minutes before the clock struck 12, Diallo made his decision. He was coming back to Kentucky. And with that decision, Kentucky's hopes of raising a ninth national championship banner got a major boost.
"I thought Hami was important for this class because of his athleticism and his ability to get to the basket," UK head coach John Calipari said.
Diallo is also important because while he was only on campus for one semester last season, that's one more semester than the majority of the Wildcats on this season's highly inexperienced roster. And though Diallo didn't play in any games last season, he did practice with and against NBA lottery picks De'Aaron Fox and Malik Monk, as well as seniors Dominque Hawkins and Mychal Mulder.
"It took my game to another level, honestly," Diallo said. "I came in and I wasn't really established at what I do. Now I just feel more established, I feel more confident. I feel like my game has gotten much better since I've been here."
At this point one year ago, Diallo was attending Putnam Science Academy in Connecticut. Fast forward 365 days and Diallo is regarded as one of the most exciting players in the country.
"I'm just a more established player," said Diallo of his game now compared to one year ago. "I know the game much more and I've just improved everything."
One of the reasons Diallo is regarded as one of the most exciting players entering the upcoming season is because of the incredible numbers he put up during last spring's NBA Draft Combine. There, he posted a ridiculous 44.5-inch max vertical, the best mark of any player by a full three inches and one of the top marks in the combine's history.
Diallo had to wait until the final few minutes before the withdrawal deadline because his draft stock continued to rise as NBA personnel fell in love with his upside. That left fans asking if Diallo would declare for the draft and potentially be a first-round pick, or return to Kentucky and help lead the young Wildcats. And after ultimately choosing to come back, Diallo said he returns to Lexington with plenty of lessons learned.
"From the things that I set before I committed to Kentucky and coming out early, I got everything I wanted 100 percent," Diallo said. "I got better, I got a better feel for Coach Cal, and I'm just ready to lead these guys. It was just a great experience for me doing that and everything I do is pretty much thought out. I think about it a long time and put a certain plan out and try to go with it."
That Diallo said he's ready to "lead" the Wildcats this season is music to Coach Cal's ears. Though he doesn't have any in-game experience at Kentucky, he does have half-season's worth of practice and instruction.
A vocal leader on the floor, Diallo's length, quickness and athleticism allow him to be a lockdown defender. On a team blessed with tremendous length, establishing a defensive presence and mindset is a real coup for this squad, and his coach and teammates are expecting him to exhibit that "alpha dog" mentality.
"Hami's great. He's a really good player and he's a dog," sophomore forward Sacha Killeya-Jones said. "He's one other dude who wants more so he's a dog coming back ready to add to his game. You see him working on things that he's not as good at yet and soon those things are going to be in his package. I think he's going to be a really fun player to play with this year."
Calipari says that none of the Wildcats "are there yet," in regards to being an NBA player, and if they think they are they're either "delusional" or don't want the work. Regarding Diallo, Calipari says the redshirt freshman must show his teammates he's there for them if he's going to be a leader.
"If you're going to be that guy, you gotta lead, and leading means you gotta serve them," Calipari said of Diallo. "I talked to Hami about it. I said, 'Man, you can't (go) off in your room and put your headphones on. These guys gotta know you're there for them. They gotta know it. They gotta know you're not here just trying to do your thing. You cannot lead if that's who you are. And when your stuff goes south no one is going to help you if you're that way. If you want to lead, everyone here is going to be about you. That means they gotta know Hami is for me.' But that's all new to these guys."
Diallo further enhanced his relationship and experience with Coach Cal by playing for the USA U19 FIBA Basketball World Cup team this summer in Cairo. There, he averaged 10.9 points, 3.9 rebounds and 2.3 assists per game.
Back stateside, he's impressed his teammates in pickup games and practices by his leadership and work to try to get so many new pieces in the right place so that when the season begins there will be less catching up to do. An improved jump shot, a perceived weakness of his, has also raised eyebrows.
"A lot of people say he really can't shoot. To be honest, I think they're crazy," freshman forward Kevin Knox said. "Hamidou's jump shot has gotten a lot better since I've been here. He worked on it really hard this summer."
Looking back at his late-night decision on May 24, Diallo said going through the NBA Draft Combine process was a "great experience," and he knows he made the right decision.
"I'm just happy I'm here today," he said.
Article written by Metz Camfield for CoachCal.com
Click here for link to article on UK Athletics Website
---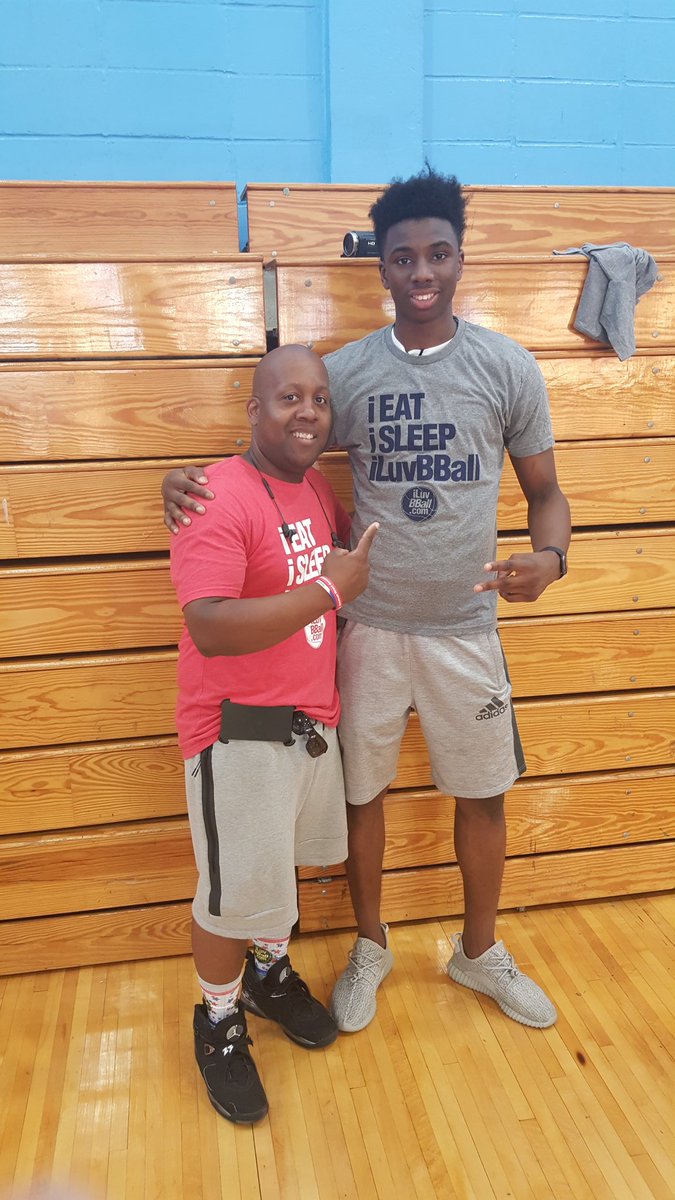 iLuvBBall Co-Founder Coach Mike with Hamidou Diallo
Help us keep track of our local players on the next level … if you see any articles or videos of some iLuvBBall Alum out there, let us know about it! Email the information to info@iluvbball.com