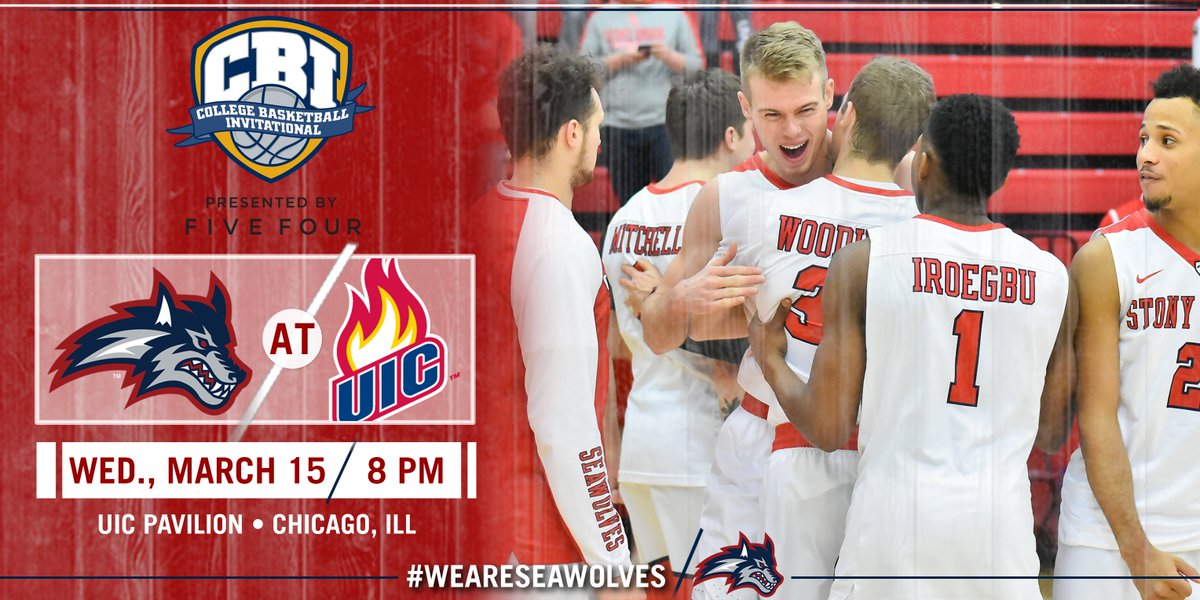 While they're not going "Dancing" in the NCAA Tournament, the Stony Brook men's basketball team will participate in the post season for the sixth straight year as it will take on the University of Illinois-Chicago in the opening round of the College Basketball Invitational (CBI) presented by FIVE FOUR. The game will be played Wednesday, March 15 at 8 p.m. This is the program's third trip to the CBI in the last six seasons and the first meeting between the two schools.
"We are very excited to be participating in the CBI this year," said head coach Jeff Boals. "This is a great opportunity for our team to gain post season experience. We are looking forward to playing Illinois-Chicago on Wednesday."
The Seawolves sit at 18-13 on the year after finishing second in the America East. They advanced to the America East Playoff semifinals for the eighth straight season, but were unable to defend their title from a season ago, falling to Albany, 63-56. Team leading scorer Lucas Woodhouse led five Stony Brook student-athletes earning conference post season honors as he was named to the All-America East First Team.
UIC enters the post season at 15-18 on the year and finished sixth in the Horizon League with a 7-11 record. The Flames also advanced to the semifinals of their conference tournament, upsetting three-seed Green Bay, 79-70, before falling to 10-seed Milwaukee, 74-68. Dikembe Dixson leads five UIC players as he averages 20.3 ppg this season, while Tai Odaise, the Horizon League's Defensive Player of the Year, leads the team with 7.1 rebounds and 2.9 blocks per game.
The CBI is a single-elimination tournament up until the best-of-three finals, with all games played at campus sites. After the first round games, the quarterfinal round will take place on Monday, March 20, followed by the semifinal round on Wednesday, March 22. Prior to the semifinals, the remaining teams will be re-bracketed. The finals series is a best-of-three in which one team will host two of the three games. Those games will be played on March 27, March 29, and March 31.